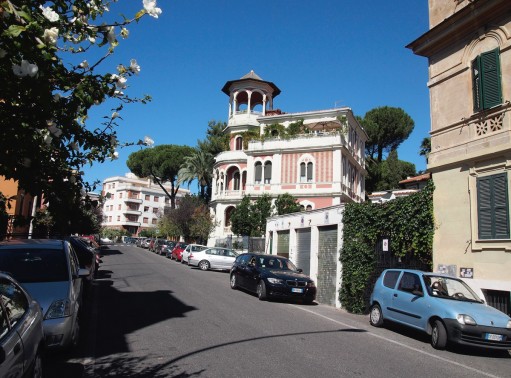 We are located in Monteverde Vecchio, on the Janiculum, one of Rome's most beautiful and romantic spots! This is a residential area, with refined vintage mansions, elegant apartment houses and streets it's a pleasure to stroll along.
La Pera Volpina is situated in a quiet street lined with thorn bush and oleander trees, in the heart of the neighbourhood, between via Giacinto Carini and viale dei Quattro Venti, adjacent to the Vascello Theatre and the parish Church of Santa Maria Regina Pacis, and a short walk away from Quattro Venti urban railway station.
It really is a refuge from the chaos of the city, while being in a central position, a few minutes away from the nightlife of Trastevere and Testaccio.
An area well served by buses, metro, trains, tram, connected to the whole city:
you'll stay in the centre of Rome, but far from traffic and in a neighbourhood chosen by artists, professionals, students, families, etc.;
you'll experience the city while enjoying the greenery around you, the huge parks and historical gardens;
you'll live in a residential area, without any fears about returning home alone late at night.
Monteverde is a safe neighbourhood, coming home at night is by no means risky:
you'll have everything you need at your doorstep;
you'll travel easily to the historical centre of Rome and to and from railway stations and airports using public transport.
Walking times from La Pera Volpina Guesthouse
Daily life, relax and fun
5 minutes
Along via Giuseppe Dezza and adjacent streets: 2 local markets, restaurants, pizza parlours, cafés, cake shops, 4 supermarkets, wine shops and bars, pubs, take-away restaurants, snack bars, bookshops, tobacconists, post office, banks, churches, sports facilities, gyms, pharmacies, hair salons, beauty centres, travel agents, police, laundries, petrol stations, artisans' workshops, boutiques, tailor's shops, schools, food stores, bakeries, ice-cream parlours, Quattro Venti urban railway station, bus stops for routes 75 / 44 / 870 / 710 / 982, taxi stand, clinics (Salvator Mundi, Sacro Cuore), hospitals (Bambino Gesù, Città di Roma, San Camillo), etc.
10 minutes For walks, jogging, trekking, mountain biking, picnics: Villa Doria Pamphilj (Rome's largest park, with 180 hectares of lawns, lakes, woods, pinewoods, sports paths, football field), Villa Sciarra, excavations of the Syrian temple in Villa Sciarpa, the Janiculum walk, the church of Saint Onuphrius on the Janiculum, the Quercia del Tasso amphitheatre.
For the kids: playground in Villa Sciarra, the Janiculum puppet theatre, the midday cannon shot on the Janiculum hill;
Tourist or study destinations
5-10 minutes on foot:
Porta San Pancrazio, Garibaldi Museum, Porta Portese, Porta Portese Market, Janiculum Walk, Finnish Embassy, Villa Abamelek, Basilica of San Pancrazio, Catacombs of San Pancrazio, Church of San Pietro in Montorio, Bramante Temple, Acqua Paola Fountain, House of Theatres, Palazzina Algardi, American Academy, Spanish Academy;
15 minutes on foot – or a few stops by direct bus
Botanical Gardens, Porta Settimiana, John Cabot University, Education Ministry, Trastevere District, Villa Farnesina in via della Lungara, Lincean Academy, Church of Santa Maria in Trastevere, Church of San Cosimato and complex of the historical hospital of San Cosimato, Church of San Francesco a Ripa, San Cosimato Local Market.
20 minutes on foot – or a few stops by direct bus:
Basilica of Saint Peter's, the Vatican, Vatican Museums, Tiber Island embarkation point for river boats, Ghetto, Synagogue.
40 minutes on foot – or a few extra stops by direct bus:
Pantheon, piazza Navona, piazza Campo dè Fiori, piazza Farnese, Palazzo Farnese, Campo de' Fiori local market, via Giulia, Mouth of Truth, Capitoline Hill, piazza Venezia, Capitoline Museums, via del Corso, Roman Forum, Colosseum.